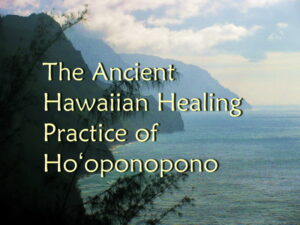 Ho'o pono pono is an ancient forgiveness ceremony from the Kahuna Tradition of the Hawaiian  Islands.  It is a beautiful and simple practice that produces profound and immediate positive transformation.
We all carry the burden of grudges and resentments held against ourselves and others. We've all experienced shame and guilt stemming from our own transgressions.  These feelings cause us to harden ourselves–leading to a variety of spiritual, emotional and mental ills.
All spiritual teachings advise us against harboring resentment.  A heart  riddled with rage has little room for expansion into love or hope for the future. It's in our best interest to forgive ourselves and others for the past so we can live fully in the present and move forward with open hearts.
People who've experienced Ho'o ponopono have expressed immediate relief, powerful personal healing, a sense of being unburdened, healing in relationship with others and a deep sense of self-love.
Prepare for Ho'o ponopono by thinking of a person or situation it would benefit you to forgive.  I cannot stress enough that Ho'o ponopono is for you.  When we unburden ourselves from resentment, our life force (chi, prana, manna, nu'um) is available for more productive endeavors!  It's appropriate to use this opportunity to forgive yourself!
This is an experiential practice.  If you choose to participate, be sure you won't be disturbed during the practice (about 30 minutes) and that you are ready to participate in the Ho'o ponopono process. In other words, it will do you no good to simply listen to the discussion and/or the practice without engaging in it.
The audio files are downloadable to any of your devices.  Included are:
30 minute discussion about Ho'o ponopono's history, efficacy and uses
30 minute guided practice of the Ho'o ponopono Rite.
This is my offering to you.  Use it as you will.  Share it far and wide so many may be healed.
OTHER WEBSITES CHARGE TENS AND HUNDREDS OF DOLLARS TO TEACH YOU THIS PRACTICE!
I ask only that you make a donation so I can continue offering Online Empowerment Sessions.
A portion of the proceeds will be passed on to agencies working with victims of domestic violence here in the Tampa-Sarasota FL area.
ONCE PER MONTH I WILL POST HERE THE DOLLAR AMOUNT DONATED TOWARD HELPING VICTIMS OF DOMESTIC VIOLENCE.
Thank You.