You say you want a revolution
We all want to change the world
You tell me that it's evolution
We all want to change the world
The truth is, I've never worked with anyone in twenty-five years who didn't want to make the world a better place. Everyone wants to help.  But, we often feel our contributions are small and insignificant.  Faced with the sheer number of issues in need of addressing we frequently default to apathy.  Many are so busy, stressed and exhausted from the effort to keep our own households running,  it's hard to imagine where to find the time to dedicate to activism. 
Your contribution to culture change involves your understanding of your own life. Your contribution includes your words, your art, cooking, gardens, herbalism, healing, activism, networking, fundraising, parenting, consumerism, organizing . . . . but most importantly, your own beautiful, infinite heart.  
Start where you are and how you are right now. 
There are more spiritually and politically  awakened people on the planet than ever before. We are more connected than ever. We are better organized, more collaborative and less competitive than ever.  We're no longer willing to let things happen to us. We're ready to take responsibility, make things happen and live on purpose no matter what it takes!  Now, more than ever, we're compelled to DO SOMETHING other than sit on the sidelines watching the news or following the online feeds.
If no one does anything, nothing changes.
But when everyone does something, everything changes.  
Let's identify what you're something is.   How do your feelings, thoughts, words and actions make a difference for the better in a world gone mad?  If you don't know how or where to begin, let's talk about that.  I'm here to tell you that everything we do for our inner world is magnified and manifested into the larger world.  We are that powerful! Meanwhile, you can begin by asking yourself the following questions and exploring your initial reactions:
Are you listening to the lived experiences of people of color, people who aren't as well off as you are financially, people whose sexual orientation or gender differs from yours?  Do you believe them?  Why or why not?  Are you willing to look at how you might benefit in certain ways which others don't because of skin color, economics, sexual orientation or gender expression?  Why or why not?  Are you willing to open your heart and connect?  Are you willing to be uncomfortable as you wrestle with yourself, the messages instilled in you and the invisible benefits you receive for no reason other than your birth?  Are you willing to begin sharing those benefits with others and making it possible for everyone to enjoy them?
You say you got a real solution
We'd all love to see the plan
You ask me for a contribution
We're all doing what we can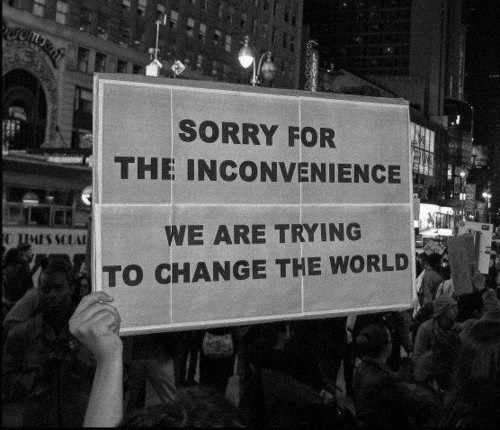 Perhaps you are already fully engaged in working for change. While every contribution to social justice and culture change is needed–no matter how large or small, activists frequently place self-care on the back burner, focusing every ounce of attention and energy on the cause. While that instinct is commendable, it makes for burnt out, exhausted, under-nourished, dehydrated, unappreciated activists.  And, that makes for activists who aren't nearly as effective as when they're fresh, sharp and energized. There are very simple, practical and immediately applicable things you can do to help yourself stay the course so you can more effectively participate and lead during this time of great change.
I invite you to join me in inciting your personal evolution so you can begin or continue your activism during this time of revolution. People all over the world are rising up against dictators, tyranny and oppression. We are gathering en masse to say we will no longer tolerate racial, economic or gender-based oppression.  Never before have so many poured into the streets to raise their voices in unison against systemic oppression. Never before have we faced such imminent threats to our personal sovereignty, our planet, the water, our food supplies, etc. Never before have so many risen up as one gorgeous mind to proclaim the Sacred Authority of Human Nature. We are declaring our birth right and demanding the respect each life deserves.
The time has come and great change is upon us. We are lifting our collective heads high, demanding self authority, freedom, full expression of our passionate creativity, full autonomy in our bodies and full recognition of our inherent dignity. It's an exciting, dangerous time of dark fear and bright hope.
You say you'll change the constitution
We all want to change your head
You tell me it's the institution
You'd better free your mind instead
Let's start a conversation about what you can contribute and how you can take good care of yourself as an activist and culture change leader. Schedule a free consultation to see if we're a good fit for one another.

Culture Change Coaching requires a four month commitment. I have a very limited number of openings. When those are full, I'll be happy to add you to a wait list and contact you when an opening becomes available.
Don't you know it's gonna be alright?

Quotations in brown:  The Beatles.
Quotations in magenta:  Yours Truly, Karina B. Heart