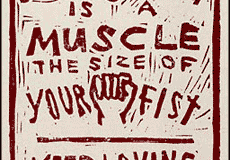 Posted on July 21, 2016 by Karina B. Heart in CULTURE SHIFT, Guided Practice

I spent part of today catching up on the news after this week's  "telephone appointment days."  I was reading, watching, listening, sensing, feeling and touching in to the news sound-bytes but also the heart-soul-sensing of folks on my facebook feed and communities. In order to *read* in that way, I let it all in and […]

No Comments. Continue Reading...